What is Burke Litwin Model of Change?
W. Warmer Burke and George H. Litwin were two famous organisational change consultants. In 1960s, they developed a model which is known as Burke Litwin Model of Change.
This model identifies three levels of changes in an organisation which are derived by 12 factors or drivers of change. 
Among the three levels of change, first is the transformational change which happens due to external environment. It has a direct impact on mission and strategy, leadership, and organizational culture.
Next is the transactional change which affects structure, management practices, system and procedure and working climate. Together with transformational and transactional changes, there is impact on motivational level and individual and organizational performance.
Although there are many factors which affect organisational change. And Burke Litwin Model of Change identifies relationship between level of changes and factors of changes.
Explanation of Burke Litwin Model with Diagram 
The middle four factors present the transactional factors. This is about day to day activities which are controlled by relationship by different departments within organization.
The final factors present performance of both individuals and organisation as a whole.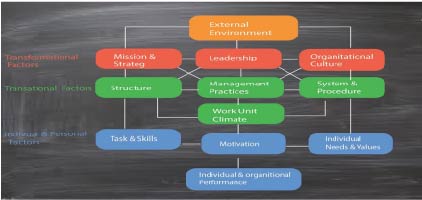 12 factors/elements of Burke Litwin Model
Burke Litwin Model identify 12 factors or elements of change which drive change in an organization.
Let's check these 12 factors out and discuss these in detail. 
01. External environment
Organizations do not work in isolation. Many external factors like economy, culture, social norms, competition, market situation etc has effect on organisation.
Organizations do have control over external factors and that is why these are the strongest factors of change. 
02. Mission and strategy
Mission and Strategy refers to purpose and goal of organisation. Leadership devises mission and strategy at organisations.
This is also a powerful factor of change and for this reason it is among transformational factors as per this model. 
03. Leadership
Leadership is also among strong transformation factors.  They are the champions of change and change leaders.
They explain change, lead its process, assess its performance and take corrective actions to put change in the right direction.
04. Organisational culture
Another transformational factor is organisation culture. It is about norms, behaviour of employees and value system prevails in an organization.
It is less tangible and formal but it has strong influence on the future and process of organizational change. 
05. Structure
Structure is a tangible factor. It is about hierarchies and departments but it also includes communication channels and decision making relationship between those hierarchies and departments.
As per this model, structure is a transactional factor. 
06. Systems
Next transactional factor is system. It refers to rules and regulations, policies, procedures which help employees to function in an organization.
These are tangible factors of change and it requires complete understanding of existing system before initiating any organizational change. 
07. Management practice
Management practices refer to behaviour and activities of managers towards implementing strategy. These practices inform how managers, leadership and employees are adhering to rules and regulations and what is the nature of relationship among different hierarchies and departments.
Management practices do have influence on organizational change. 
08. Working climate
Working climate refers to organizational environment; what is attitude of employees towards work; are they comfortable in organizational culture; how they feel about the leadership.
This working climate is also driver of change and it does affect the change process. 
09. Tasks and skills
Actions which are required to be completed in a given time by employees are tasks and expertise which are needed to complete that actions are skills.
For an organizational change to happen, skills of employees must be aligned to new roles and tasks
10. Individual values and needs
Employees come from different social and educational backgrounds and they have different expectations from organization about working climate, remuneration, growth opportunities etc.
It is a powerful factor which affects productivity and efficiency of employees and has strong impact on success or failure of organizational change. 
11. Motivational level
It is about employees' level of dedication and commitment towards achieving organizational goals. Motivation level of employees depends on many other factors like what is organizational culture, values, remuneration, management practices etc.
This is a soft factor but it is prerequisite to implement change initiative in an organization.
12. Individual and organizational performance
Performance of individuals refers to completion of tasks in effective and efficient manner. And sum total of individual performance is the organizational performance.
The organizational performance is assessed by achievement of organizational goals in given time period. 
Let's discuss some pros and cons of Burke Litwin Model of Change.
Why to use Burke Litwin Model of Change /Advantages of Burke Litwin Model of Change. 
This is a comprehensive model covers all the important factors into account to explain why change is happening, what is driving change and helps in formulating change strategy.
This model explains factors of change on the basis of cause and effect relationship which helps to have complete understanding about organizational change.
This model explains the meaning and distinction between transformational and transactional level of change leadership in an organization.
Limitations and Disadvantages of Burke Litwin Model of Change
The critics of this model are of the view that over simplification of different factors of change results into producing sub factors which actually makes it a more complex model.
This model only focuses on what drives change and fail to explain how to implement change.
It puts external environment factors on the top which drives change which is not always the case. There are internal factor as powerful factors which lead to organizational change.
Take Home Points:
Burke Litwin Model of Change explains three levels of changes- transformational, transactional changes and changes in performance.
These changes are derived by 12 factors which include external environment, mission and strategy, leadership, organizational culture, structure, system, management practices, working climate, task and skills, individual values and needs, motivation level and individual and organizational performance.
Among these drivers some are hard factors and some are soft; some are tangible and some are intangible.
Organizational change is a display of these complex yet interconnected factors of change.